Old Massanutten Lodge
At The Entrance To The Shenandoah Valley
3448 Caverns Dr
Keezletown, VA 22832
6 Bedrooms
15 Overnight Guests
Great Hall
80 Daytime Guests
About Us
A Historic Lodge Nestled in the Shenandoah Valley
Nestled at the western base of Massanutten Mountain lies the century old Massanutten Lodge. Rich in history, the Lodge still shows her craftsmanship with hand laid rock pillars and massive fire place. Located at the end of a quiet lane, the Lodge is the perfect place for peace and relaxation. Boasting 6 bedrooms, 4 ½ baths and 11 beds, the Lodge can easily accommodate multiple families. The massive covered front porch and inviting side patio with lighted pergola share the soothing sound of the garden waterfall. The Lodge has gone under extensive renovations in 2018 to include a completely new kitchen, dining room, new floor in the Great Hall and outdoor patio. Great efforts were made to maintain the feel and character of The Old Massanutten Lodge.
The Lodge is perfectly located between Harrisonburg VA and Massanutten Resort. The beautiful Shenandoah Valley is filled with activities such as hiking, trail biking, wineries or breweries, James Madison University to name a few. Sit back and enjoy the massive gas logs in the Great Room with your favorite book or enjoy the great outdoors with nearby bike and hiking trails, Massanutten Ski Resort or the many activities of Harrisonburg, Virginia.
Whether you're interested in just a short stay or planning an event, The Old Massanutten Lodge will not disappoint.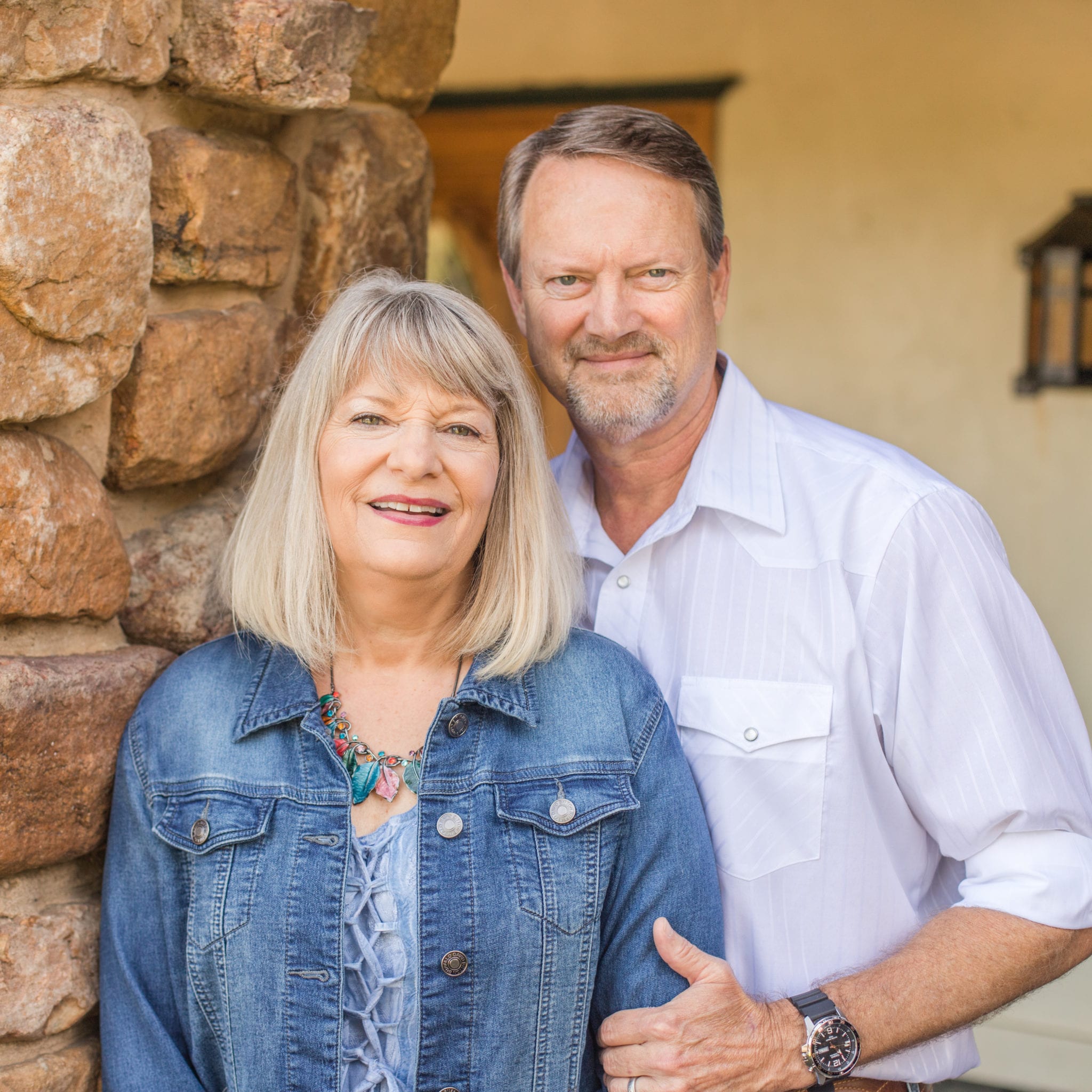 Perry is a veteran of the US military and works for the National Park Service. Cindy is a retired speech pathologist and JMU alum. We love the Shenandoah Valley and are excited to offer the Lodge as an experience rather than just a place to lay your head.
Perry & Cindy, Your Hosts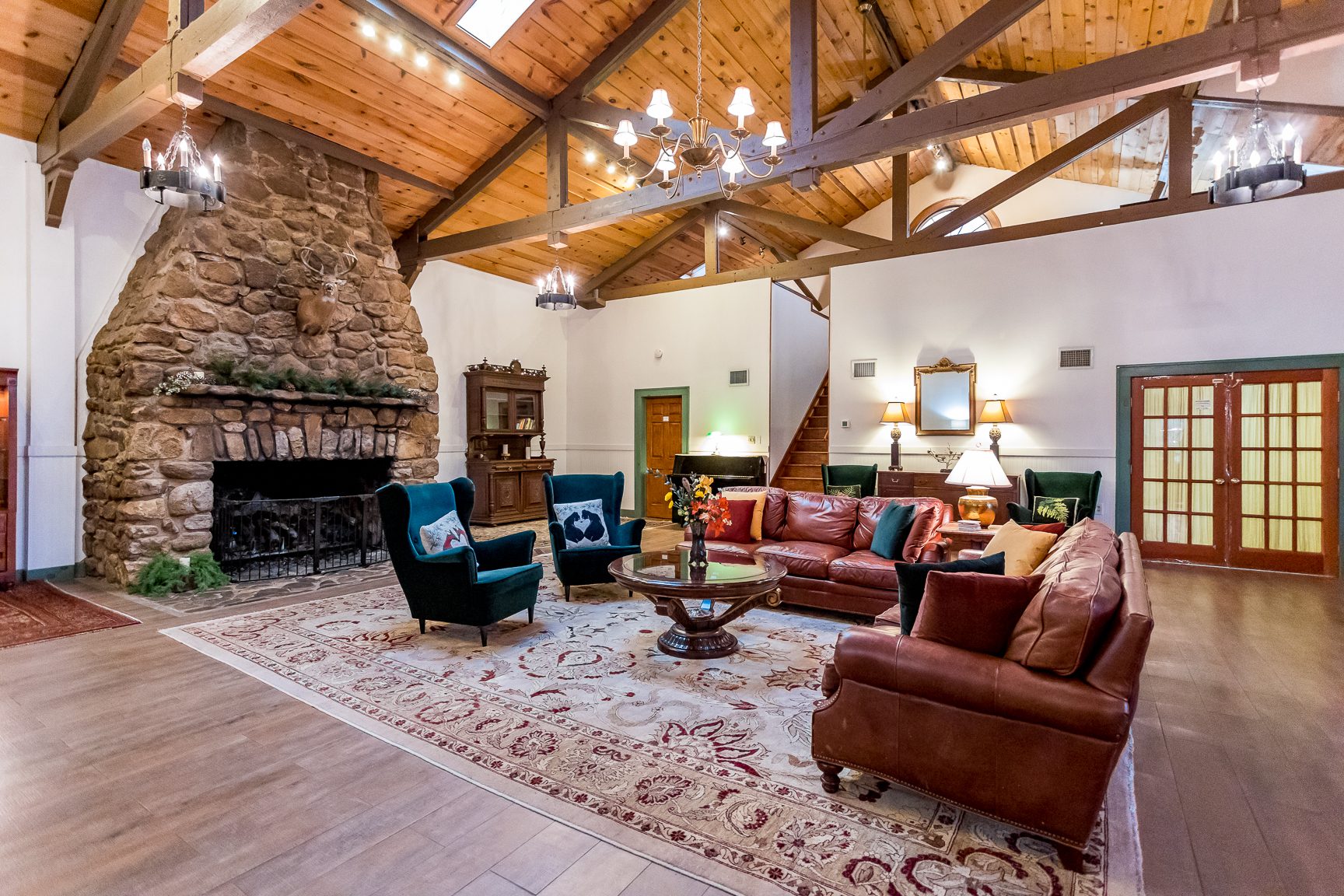 The Great Hall
Rustic and spacious two-story, open vaulted ceiling with sky lights and massive gas log fireplace. The Lodge is perfect for baby, and wedding showers, birthday, graduation, engagement and anniversary parties as well as corporate events.
Seats 80 People
Adjacent Full Size Kitchen
Two overflow lofts
Tables and Chairs available for rent
Discover
Room & Suites
Separate apartment style suites allow for privacy and solitude in retreat style comfort.
Butterfly Room
Gas log fireplace, soaking tub and handicapped accessible bathroom.
Private Bathroom
Queen Bed
Separate Entrance
Main Floor Apartment
Adjacent to a sitting room with TV and gas log fireplace. Large windows with access door to patio.
Private Bathroom
King Bed
Top Floor Suite
Two bedroom suite with private bath perfect for families with children.
Queen Bed
Full Bed
Vaulted Ceiling & Skylights
Hummingbird Room
Private balcony overlooking the grounds, gas log fireplace and jacuzzi tub.
Private Bathroom
Queen Bed
Vaulted Ceiling
I must start by saying the customer service that Cindy gave to me and my family was awesome. Considering the fact that COVID-19 is real out there for the world, this cabin was disinfected from top to bottom. This spacious cabin gave me and my family everything we were looking for.
We enjoyed ourselves from Friday night kickball, Saturday night bonfire to Sunday massages and last supper. I would recommend this homey, safe and secure cabin to anyone that is looking for a wonderful family time.
Thank you for trusting us with your beautiful cabin and we will be back!
Donna -August 28,2020
Free WiFi
High Speed Cable Internet with Chromecast devices on the TV's. You can stream your private
Netflix or Hulu accounts on the TV's as well as gaming devices.
Parking
Newly paved parking area. This Lodge has a commercial sized parking area. 
Children
High Chair and travel crib are available. A carpeted play area is provided with toys, coloring table and children's books.
Laundry & Linens
Towels and sheets are provided. Ample blankets and pillows for all guest rooms as well as a laundry room with washer and dryer.
Kitchen
All new modern appliances, pots & pans, place settings for 20 and minor pantry items
Coffee Maker
Standard 12 cup drip coffee pot, 20 cup commercial percolator, pour over equipment and French Press available.
Television
Two flat screen, high definition TV's with DVD players are available in the common areas
Music & Stereo
Sonos stereo speakers are available in the kitchen and great room. Great sound for streaming from your Pandora or Spotify accounts.
BBQ Grill
Outdoor BBQ grill on the patio supplied with outdoor lighting 
and many more
Safety features
Deadbolt lock
First-aid kit
Smoke detector
Fire extinguisher
Carbon-monoxide detector
Exterior lighting
General
Washer/Dryer
Air Conditioning
Heating
Hair Dryer
Paper Towels
Shampoo
Basic Soaps
Iron & Board
Fireplace with Gas Logs
Kitchen
Coffee Maker
Dishwasher
Refrigerator
Stove
Oven
Microwave
Ice Maker
Dishes & Utensils
Assorted Spices
Entertainment
Television
Satellite / Cable
SONOS Stereo
DVD Player
Books
Corn Hole
Board games/puzzles
Children's Toys and books
Balcony
Deck/Patio
Wheelchair accessible
Have a Question?
Talk to the Host
We booked the Lodge two weekends in a row for family get-togethers on both sides of the family, and everyone loved it! They couldn't stop saying what a great space it was. Highlights included the great room, the huge dining room, a wonderful kitchen, the outdoor spaces and grill, and the water feature in the back yard. Each of the rooms is so unique, everyone had a great time going around to see each other's rooms. Cindy was extremely responsive and helpful when we needed things. We enjoyed several walks in the neighborhood during our visit, and spent many hours on the porch in the very comfortable furniture! Highly recommend!
Emily
This is a great place for a large family to stay! Plenty of bedrooms and lots of room for the kids to roam and play. The dining room was perfect and the kitchen is big with new appliances and very clean. The grounds are amazing. Plenty of room for a family baseball game and lots of places to explore. The owners are very responsive and great to work with. Our grandchildren all loved it and didn't want to leave. This property is in the country but near Massanutten Resort and other fun things to do. We will definitely go back and will highly recommend this property to family and friends
Cheri H
My siblings' families and mine celebrated our dad's 70th birthday at the lodge…fifteen of us altogether. The property is extremely spacious inside and out. The owners, Cindy and Perry, were very hospitable and attentive to our needs both before arriving and during our stay. We had a wonderful and memorable time at the house. Although we did have some fun away from the house, there was plenty there to keep us entertained and enjoying each other's company—corn hole, large yard for a wiffle ball game, slip and slide, very relaxing front porch and a fire pit to top off the day's activities. We had such a great time at the Old Massanutten Lodge that we hope to go back someday.
Jenny W
Visit the Shenandoah Valley
We'd Love to Have You!
Make the Lodge your home away from home during your visit to the Shenandoah Valley
3448 Caverns Dr
Keezletown, VA 22832